In recent years, gradually influenced by the oriental culinary culture, many Americans begin to use gas cooktops, especially some of top chefs and even some of Michelin Chefs. They are keen to cooking with flames from gas.
DE&E has always been acute in market insight. It insists on continuously bringing forth new products through the old ones to complete its products portfolio. Besides improving product quality, innovative technologies and brand popularity, it also emphasizes on ever-growing consumption needs of customers.
This time DE&E will launch its American Style Gas Cooktops which can fast and economically cook. Even to boil a liter of water, it can save two minutes compared with other cooktops. Its burner and burner cap are from Defendi and the material used is brass. Defendi burner is not only elegant in appearance but also durable and is with very high efficiency. The thermal conductivity of brass is better than other common burner material like Aluminum alloy. Furthermore, equipped with guide rail-like flat pan supports, you can easily move your pan to anywhere you like.
Let's introduce it in details:
Defendi Full Brass
Burner Made in Italy
- Durable and no deformation
- Suitable for big firepower
- Resistant to 800℃ high temperature
- Italy premium craftsmanship
- Dedicated to burners for six decades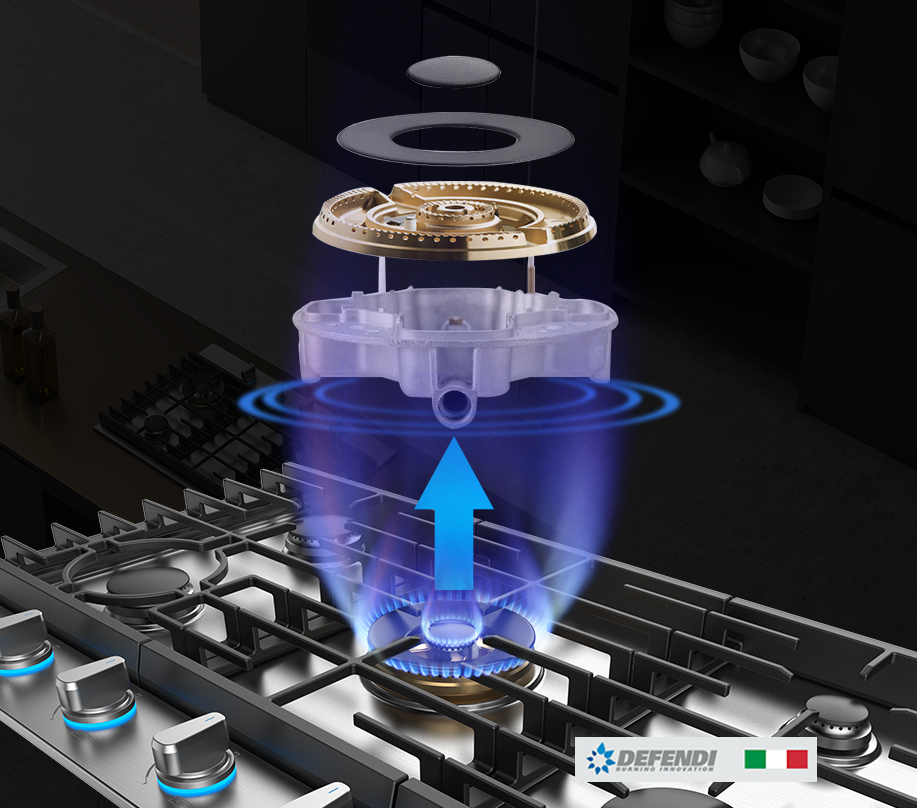 Super Power
Burner Systems
Powerful wok burner can provide heat of 22,000BTU per hour, providing enough heat for stir frying cooking needs of Asian customers.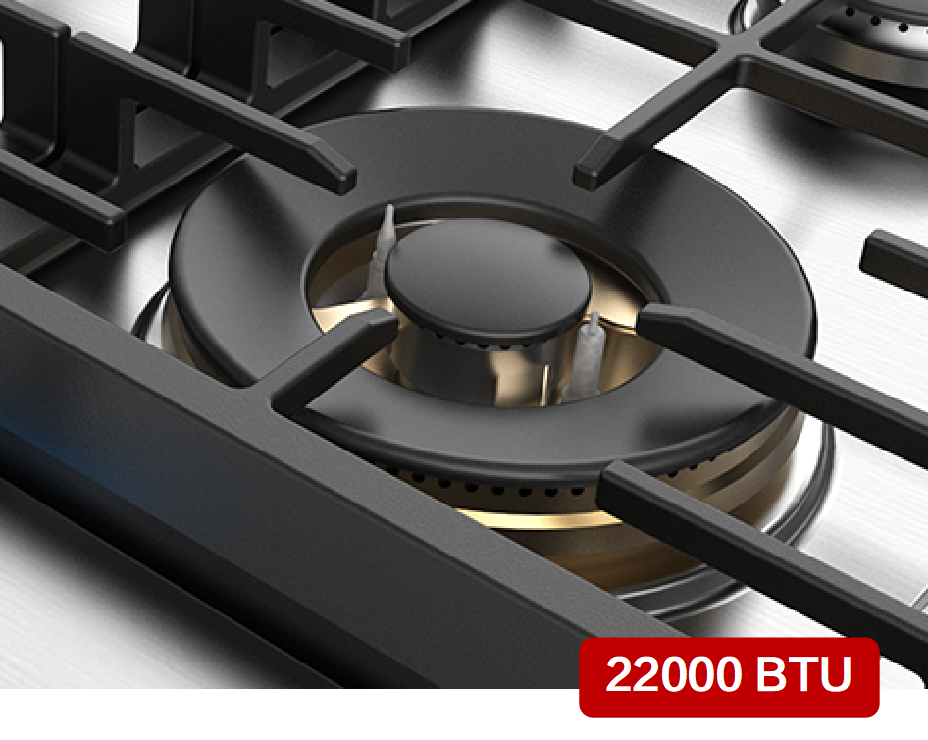 Accurate Power
Burner Systems
Special mini burner can only provide heat of 3,000BTU per hour, which can melt butter or coconut oil, heat chocolate or milk. Keep providing small firepower accurately and stably, to help you perfectly cook delicious dishes.
We select and use fine copper material—Defendi burners and burner caps. They are not only elegant in appearance but also durable and with high heat efficiency.
Thermal conductivity of brass is better than other common burner materials like aluminum alloy.
Actually, cooktop with brass burners is with very high efficiency and can effectively convert heat energy. It can effectively improve cooking efficiency and save energy when prepare food for families.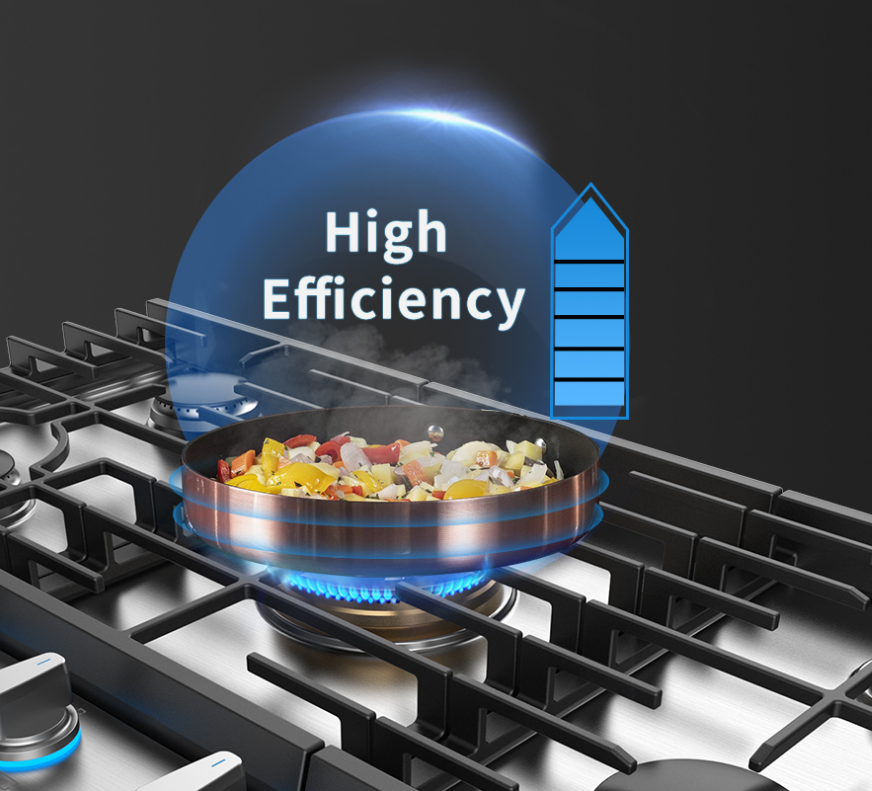 The knobs are made from insulation material, risks of cutting, scalding and getting an electronic shock are decreased to the greatest extent.
On the bottom of the knobs, there is a LED light ring. This personalized detail is convenient for the users to observe status of the cooktop. If the burner is working, its corresponding knob will be lighted and when it is not in working status, the LED light ring of the knob will be off.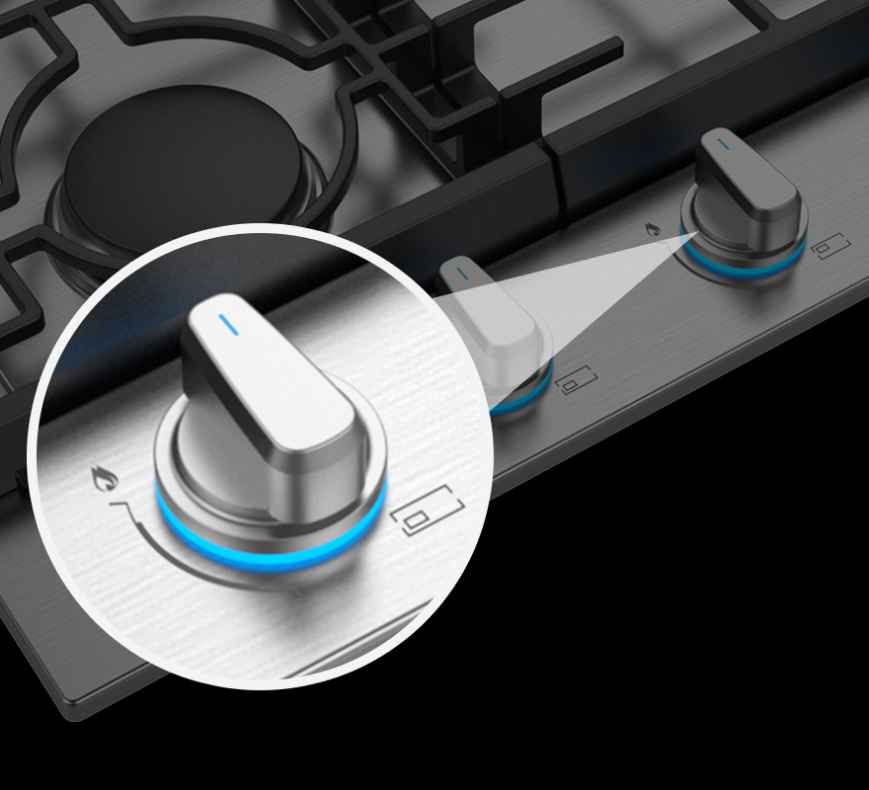 Pan Support Appearance design

Round-bottomed Wok Details
Flat design of the burners is more coordinate with the design of pan supports. Cast iron pan supports can cover all the combustion area and keep consistent horizontal height. During cooking, you may slide the pan to different burners at your ease.
To satisfy different cooking needs, pan support above the wok burner has detailed design of skidproof edge, which can meet the needs of more customers. Cast iron is solid and durable. So DE&E provides you with a multi-functional durable and long-lasting cooktop.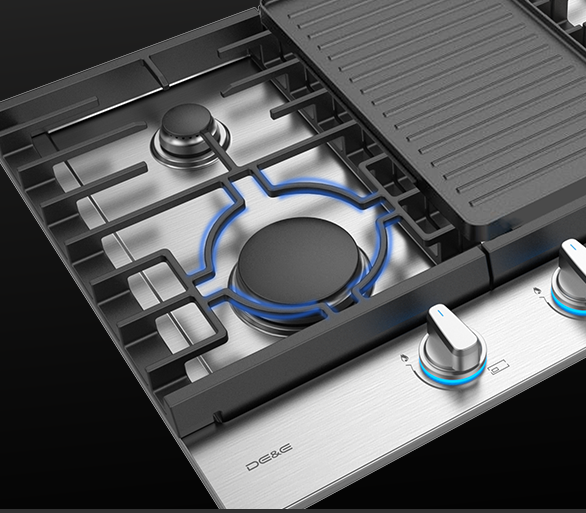 Rapid burner of this professional cooktop can provide even and consistent heat for large bakeware which is an ideal selection to prepare various breakfast foods, roast sandwich, frying vegetables, fillet and steak. You can adjust the firepower according to different ingredients and finish cooking with comfortable operations.
08

Design of one-piece stainless steel cooktop panel and simplified drip tray is easy for users to daily maintain and clean. Smudges have no where to hide and such design can prolong the service time of the product.